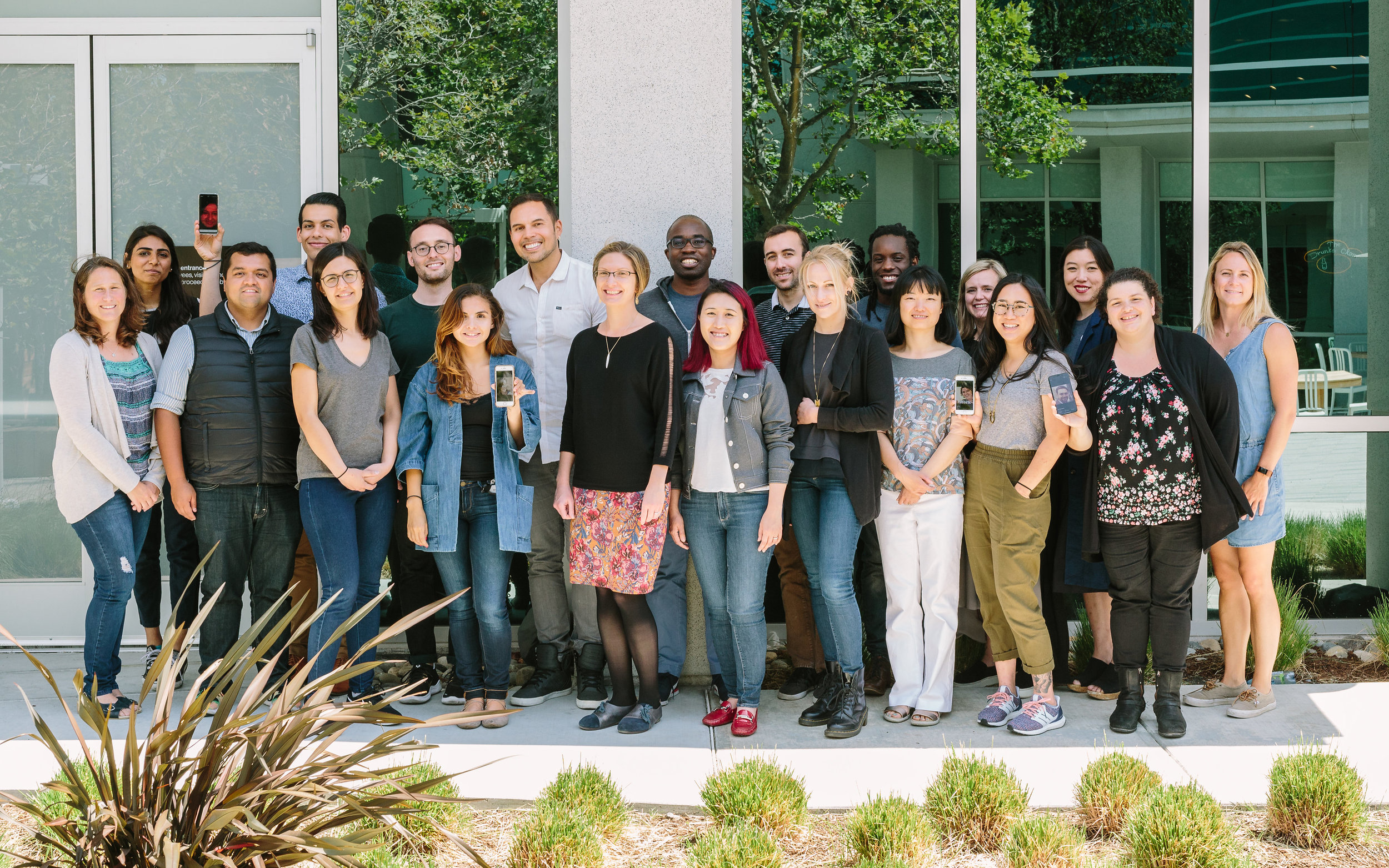 ABOUT THE PROGRAM
Facebook's Research Associate Program (RAP) identifies potential research talent among an array of backgrounds and experiences, builds a community of support around the development of these individuals, and grows capacity for Facebook and for the future of RAP to attract, develop, and retain research talent.
Our mission is to find and shine research voices from non-traditional backgrounds. RAP focuses on those with the passion and aptitude for UX Research. We invest in exceptional people, those who have backgrounds and experiences that we believe can translate into a successful research career.

The program is intended for those who have experience or education outside of our traditional UX Research hiring paths. It is intended for people eager to learn, to apply the extra support and development, and to give back their unique research voice.
GROWTH
Learning and development is key to the program. Associate Researchers receive a 2 week immersive educational experience led by Facebook researchers, followed by continuous opportunities to hone their skills, including: workshops, trainings, and career development planing.
Throughout the program, Associates work closely with experienced Research mentors to develop the skills needed to become successful Researchers and leaders at Facebook. Associates also learn from each other and alumni, acting as sounding boards to pitch and test out new ideas.
COMMUNITY
Research Associates form a strong community within Facebook. They come from a variety of backgrounds and industries, creating unique opportunities for learning and collaboration.
Associates, alumni, mentors, and program leadership develop close relationships as part of their participation within RAP, building a community across Facebook that shares in this growth experience.
IMPACT
Associates work on products that impact over 2 billion people who use Facebook to share and connect with each other.
Within their time in the program, Associates are expected to independently lead research that impacts products: crafting method, analyzing data, and communicating the results to stakeholders and leadership. Associates collaborate with product managers, designers, data analysts, content strategists, engineers and fellow researchers to build world-class experiences.
Alumni: Demetric sanders
"Before joining RAP, I was in the non-profit world working with marginalized youth. When I decided to move into tech, I wasn't even aware that UX research was a career option. I soon became interested, but didn't have a traditional UX research background, so I was excited by the program's unique opportunity to rapidly learn and grow in the field.

During my time in the Program, I was able to work with the Events team, the Location and Entities team, and the Ads team. By being exposed to several teams and exploring multiple research methods, including international research, I was able to acquire and hone a wide range of research skills. Feedback from peers and mentors in the program, along with repetition and experimenting with my own style, has fueled my growth into a confident researcher, ready to tackle any problem.

I often tell my friends and family, 'It feels like I got my PhD at Facebook,' because of the amount of learning and growth I've experienced in the program. My UX research tool kit is now well equipped with skills from aligning on research goals with stakeholders, to selecting the appropriate research methods, conducting the research, analyzing the data, presenting the findings and making product recommendations. With so much development in such a short amount of time, I'm excited for what the next few years have in store."
ALUmNI: Emily becklund
"I came to Facebook after just completing a brand-new post-bac program at UC Berkeley. At Berkeley I realized that I loved conducting and discussing research, but could also tell that grad school wasn't for me. I knew almost nothing about industry research or really even the tech industry itself, so I wasn't sure that I had the skills or background to keep up. I started this new career with a lot of enthusiasm, questions, and anxiety.

The RAP program paired me with exceptional mentors who worked with me to find my professional strengths and encouraged me to take on leadership roles despite a nagging sense that I didn't belong and wouldn't qualify. My mentor's manager also took an active role in my professional development: taking time out to give me constructive feedback, support me, and most importantly help me work through so much of the anxiety that stood directly in the way creating product impact.

Now, I not only feel that I belong, I feel comfortable enough to mentor and support others. I jokingly call Facebook "Facebook University," the people to people support I've received here has helped me grow both professionally and as an individual. I look forward to giving back through mentorship what so many have given me."
MENTOR: Laura rivera
"As a mentor, I've been learning the fine balance of providing enough support while simultaneously stepping out of the way. Investing in another person's growth requires thought, planning, and time. Putting that energy in, it's been incredibly rewarding to see our Associates come into their own.
I've learned that mentorship may look different at Facebook than some of my past experiences because here we have some of the brightest, most talented people in our field.
My mentoring relationship is bidirectional—I'd guess I've learned as much from my Associate Researcher as she has from me."
alumni: Sydney lolli
"The research team at Facebook is unfailingly welcoming- I can remember no fewer than ten coffee chats I scheduled on random researchers' calendars that were met with nothing but enthusiasm about meeting another researcher interested in their work. I started having lunch with an Oculus researcher while working on the Facebook Protect and Care team, and ended up collaborating with her on a month-long passion project to understand how harassment plays out in social virtual reality spaces.

Between the researchers from my RAP class, cross-functional partners on my product teams, managers, and mentors- both formal and informal- there are countless people I know I can depend on for both career guidance and moral support.

With so many interesting connections to make in the office, it's a little difficult to leave for research trips abroad. These investigations have been some of the most rewarding and impactful experiences I've had as a researcher at Facebook. I've listened to people tell stories about their lives and observed communities connecting firsthand in several countries, including India, Mexico, and Germany. As my role requires me to be a "voice of the people," integrating different cultures into our design process equips us with the insight to solve real, tangible problems that people have. Experiencing how people interact in communities around the world has greatly influenced how I advocate for real people with my product team, how I think about my role as a researcher, and how I relate to my own community."
ALUMNI: Jennifer maples
"Everyone says the best part of working at Facebook is the people. For me, it's not just the people, but the supportive, collaborative community created among those people. The advantage of this program is that it sets you up to find community and mentors who can support you in everything from daily tactical help to realizing your long-term career goals.

Even a year after starting the program, I continue to leverage my community of mentors, or "village" as one of my mentors likes to call it. Whenever I'm tackling a new problem or feel like I need help navigating a new situation, I have a wide network of people to reach out to. And now with a more advanced researcher skill set, I'm also able to give back to my "village" by sharing all that I've learned along the way."
Alumni: Rachel LeRoy
"Through RAP, I've found not only colleagues, but friends and community.
As a young researcher fresh out of school, I entered Facebook armed with the newest methods and most optimistic ideals. I hadn't yet been faced with the reality of industry, which while exhilarating, can also be shockingly brusque. It's the RAP family that has made all the difference.
I smile when I remember all the last-minute one-on-ones, coffee runs, and sanity checks that researchers associated with our program warmly encouraged and invited. These conversations were ones where I found not only advice, but more importantly open and supportive ears that quietly strengthened my confidence to try new things and take risks - like facilitating workshops on controversial topics as a young n00b.
This community, this family, is by far our biggest strength."
Alumni: Lauren vilders
"Prior to my time at Facebook, I was not a researcher. I worked at YouTube for close to 4 years as a Strategist on a team called Audience Development, helping creators grow their channels. While I had some exposure to research during my time at YouTube, it was in the Research Associate Program where I first conducted the research myself.

During the Rotational Research Program, I spent time with the Media team, the News Feed team and the Protect and Care (PAC) team. When asked about my proudest moment in the program, I'd say it would be when I was on the Civic Engagement team (then part of the Media team)."

I conducted research in New York to test our Voter Guide product, a tool to help people plan their votes for the November 2016 election. When we launched, the Wall Street Journal wrote an article about the new feature and mentioned some of the product changes that my research directly informed. It was then that I realized the incredible reach and impact our work can have — even as researchers in training."
mentor: Jill campaoila
"Billions of searches happen every day on Facebook, and people watch millions of hours of videos every day on our platform. Working on "Video Search" at Facebook is a great opportunity to have impact on the daily experiences of our users worldwide.
Our Search Team's Research Associate was tasked with understanding how we can best surface and present video search results to improve people's ability to surface the videos that matter the most to them. She conducted a variety of qualitative interviews, usability studies, and surveys, which are informing the design of new product features and helping shape the product strategy and vision."
mentor: justin hepler
"Marketplace is a convenient destination to discover, buy, and sell items with people in your community. Each month, more than 550 million people use Facebook to buy and sell things, and Marketplace is a key part of that vibrant commerce system.

Our Research Associate on the Marketplace team has been driving our understanding of how people discover things in Marketplace, and how we can make that discovery experience more user friendly and delightful. She's conducted qualitative interviews, usability studies, surveys, and eye-tracking studies to help us shape the Marketplace strategy and vision."